Have you tried Jel'd Stain H2O, our water-based interior pigment wood stain?
It's our low VOC, low odor, non-flammable and easy to apply pigment gelled interior wood stain.

(Product Spec Data Sheet - Press Release)


Aviso - Notice - Avis
The Wood Kote offices will be closed for the vacations, 02 July – 13 July 2017.
Las oficinas de Wood Kote estarán cerradas durante las vacaciones, 02 de julio – 13 de julio de 2017.
Les bureaux de Wood Kote seront fermés pendant les vacances, le 02 juillet – 13 juillet 2017.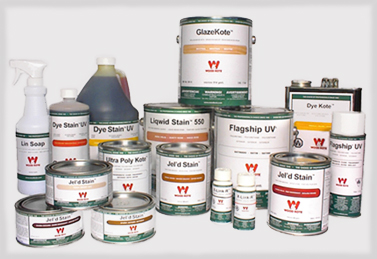 In order to offer a better and more complete service to our clients, our online store has been transferred to our dealer
Super F Paint
They not only carry the complete line of Wood Kote Products, but they also have many specialty and standard coatings and paint sundries from trusted vendors such as Devoe, Matrix Automotive, Mirka Abrasives, Wooster Paint Brushes, Corona Paint Brushes and many more.